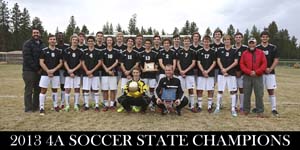 Despite being one of the smallest 4A schools, Sisters High School repeatedly produces state champions in football, soccer, lacrosse, volleyball, golf, swimming, cross-country and track.
Supported in part by the Sisters High School Outlaw Booster Club, Friday night football games, varsity baseball, volleyball, lacrosse and more are certainly a community event!
Tim Roth, Athletic Director from Sisters High School is proud to say: "We purposefully categorize Sisters Athletics as "co-curricular" not "extra-curricular" because, as a coaching staff, our goal is to be an integral part of the teaching mission of our school. Our coaches believe that their work is an extension of the classroom."
Click here to be re-directed to the Outlaw Athletics Home Page to learn more.
Chamber Awards Ceremony
12/12/2019 @ 5:30PM - 8:00PM
Complete details at a later date.
Author Reading-Paulina Springs Books
12/13/2019 @ 6:30PM - 7:30PM
Joshua Savage "100 Things To Do In Bend, Oregon Before...
Father Christmas and Thorn Hollow String Band
12/14/2019 @ 11:00AM - 3:00PM
Bring a camera and take a photo with Father Christmas....
"One Winter's Night" Dance Recital
12/14/2019 @ 1:00PM - 8:00PM
The Sisters Dance Academy is proud to present, "One...
Breakfast with Santa-FivePine
12/15/2019 @ 10:30AM - 12:30PM
Don't miss having breakfast with Santa, great for...
View complete event calendar »