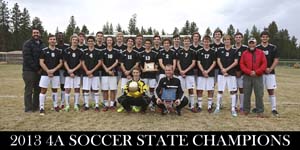 Despite being one of the smallest 4A schools, Sisters High School repeatedly produces state champions in football, soccer, lacrosse, volleyball, golf, swimming, cross-country and track.
Supported in part by the Sisters High School Outlaw Booster Club, Friday night football games, varsity baseball, volleyball, lacrosse and more are certainly a community event!
Tim Roth, Athletic Director from Sisters High School is proud to say: "We purposefully categorize Sisters Athletics as "co-curricular" not "extra-curricular" because, as a coaching staff, our goal is to be an integral part of the teaching mission of our school. Our coaches believe that their work is an extension of the classroom."
Click here to be re-directed to the Outlaw Athletics Home Page to learn more.
Sisters Senior Lunch
5/30/2017 @ 12:00PM - 2:30PM
Meet your fellow seniors at the Sisters Senior Luncheon!...
Texas Hold 'Em Tournament
5/31/2017 @ 7:00PM - 10:00PM
Call the Sisters Saloon for complete details.
Author Reading at Paulina Springs Books
6/02/2017 @ 6:30PM - 8:00PM
Kim McCarrel presents Riding the Metolius Windigo...
CPR/First Aid Class June 3-4
6/03/2017 @ 9:00AM - 3:00PM
CPR and First Aid Class Sisters-Camp Sherman RFPD...
Yoga Retreat -June 4 thru 7
6/04/2017 @ 8:00AM - 6:00PM
Join us for 4 days and 3 nights of active fun, restful...
View complete event calendar »